Your Mental Health Matters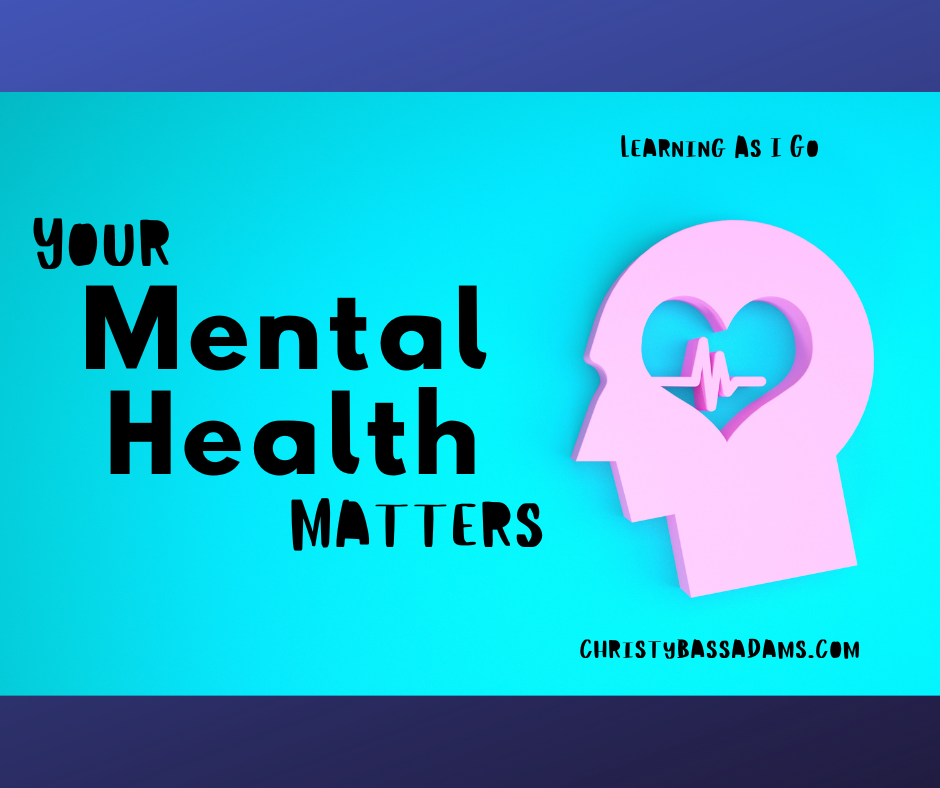 Posted On
Posted By christyadams008
I felt the stress closing in, slowly draining my hope. Even the weekend provided no opportunities for rest. Commitments. Responsibilities. Deadlines and timetables in numerous areas. The calendar for the coming week showed on my phone. Even before the week began, time was not my own. After a huge sigh, I shuffled a few responsibilities around and carefully reviewed the have-tos of each day. There were two mornings available for tending to my mental health, and a smile spread across my face.
So, what do I mean, tending to my mental health? When stress comes, especially unexpected stress, I get overwhelmed. Then, I can't see clearly because my emotions are moved from my chest to my sleeve. Normal jokes or comments suddenly hurt, sleep isn't solid, anxiety creeps in, and a fogginess covers my vision. If I don't put things in place to counteract the stress and help me cope, I easily lose my footing and focus.
As I look at my week, I always try to add fun exercise with people I enjoy being around. Pickleball and walking are the two exercise options I usually choose. Exercise of any type releases much-needed, positive chemicals in our brain, and also boosts our metabolism, giving us more energy. When I'm stressed and tense, after exercise, something changes inside, and my body feels calmer. It's a required part of my week to keep my mind in a good place.
Another piece of tending to my mental health is being creative. As a writer, it's necessary to make time to do what I love—write! I have a day set aside for writing, especially as my assignment and deadline list grows. But I also have to make time for personal journaling. That's where I process my thoughts, actions, emotions, and attitudes. I also use my journal for prayers and breaking down scriptures. It's an important piece of the puzzle.
But just being creative in general is super important, too. Taking pictures. Creating artsy projects. Enjoying nature. Drawing or painting. Making mosaic or stained glass. Reclaiming old furniture. Sewing. Even if you aren't any good at creative ventures, sometimes, just the act of creating something helps the brain move to a better space.
The last piece I would encourage others to add is faith. Daily I make time for reading the bible and multiple times a week I make sure to be around like-minded believers. It's important to share our struggles and gain insight from others who can remind us of God's truth and offer solutions without jumping on our bandwagon. There are times I reach out to a Christian counselor or I call friends for specific prayer needs. This is an often-neglected area of our mental health that is directly connected to mental stability.
Does your world seem to be spinning wildly out of control? Before you lose your foothold, stop, and look at your coming few days. What areas have been neglected? Find one thing to add that can help with your mental state of mind this week. I promise it will be worth your time.
Copyright secured by Digiprove © 2022 Christy Adams