Dragging Up Dead Birds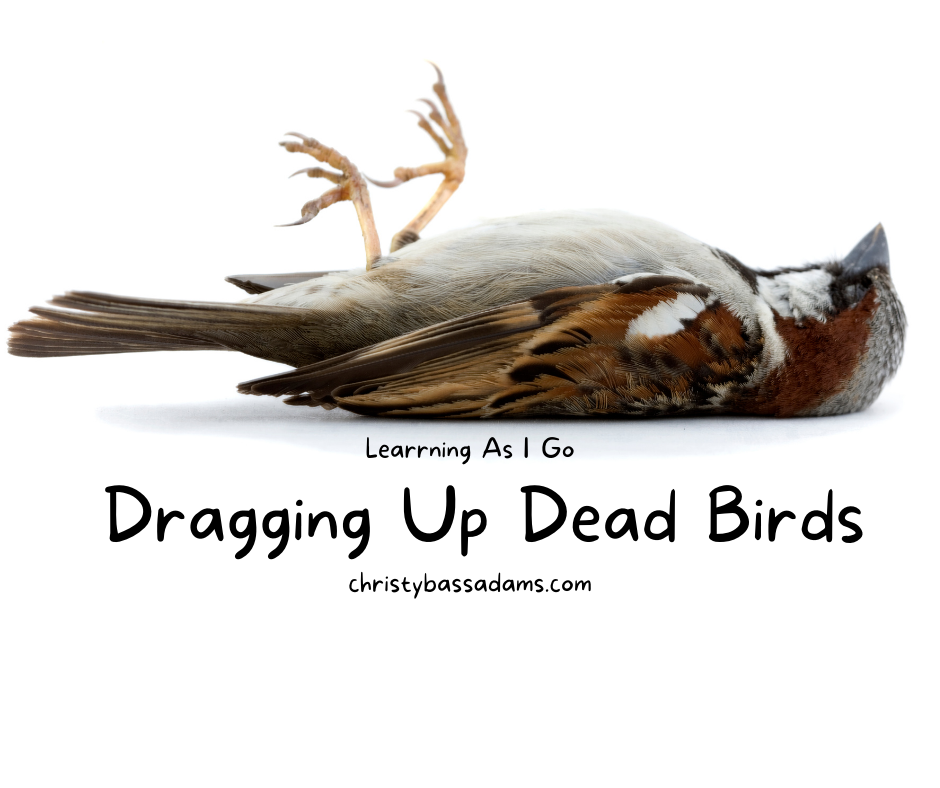 Posted On
Posted By christyadams008
I came home last weekend and discovered my husband bought a new dog. He's three months old and for the first two days all he wanted to do was snuggle. Maybe it was the shock of a new place, or he was trying to sucker us in; I don't know, but Amos Moses stole our hearts fast.
Slowly, however, he let us see that he is not all snuggles and sweetness. In fact, he's almost as wild as the last little dog we had. Yesterday he ran around the yard and chewed up everything he could. He barked at the baby chickens, chased the cat, jumped from person to person, and then disappeared.
We called and looked, when suddenly he reappeared carrying the carcass of a dead bird in his mouth. Getting the dead bird away from him was very hard—it consumed Amos' entire focus. Finally, one of us held Amos while Carter picked up the rotting bird with a pair of pliers and toted him off in the woods.
Sometimes God calls us, and we don't come either. For whatever reason, we have gotten stuck on something from our past and when we do reappear, we are carrying a dead bird in our jaws, holding onto it for dear life. Our past failures, fears, interactions, relationships, and understanding are all we can see, and we latch on, afraid to let go.
Maybe that's why Paul in the bible said, "I press on toward what is ahead." He knew we would drag up dead birds and get stuck in old ruts. He knew we would need a reminder to keep our head in the game. He knew, from his own jaded past, the need to focus on the present and future instead of old, haunting mistakes.
Like Amos, do you find yourself disappearing from the present and reemerging only to be carrying an old, dead bird? Are you latching onto old mistakes, claiming them as an excuse to stay stuck and not move forward?
It's time to grab that old, dead bird and toss away the carcass. We have a job to do, a calling on our lives. Dead birds take our focus away from the important adventures of life. Pick that dead stuff up and throw it in the woods. As Pumbaa quotes in the Lion King, "It's time to put your behind in your past," and step into the newness of the future. No dead birds allowed.
Copyright secured by Digiprove © 2022 Christy Adams