Turning Forty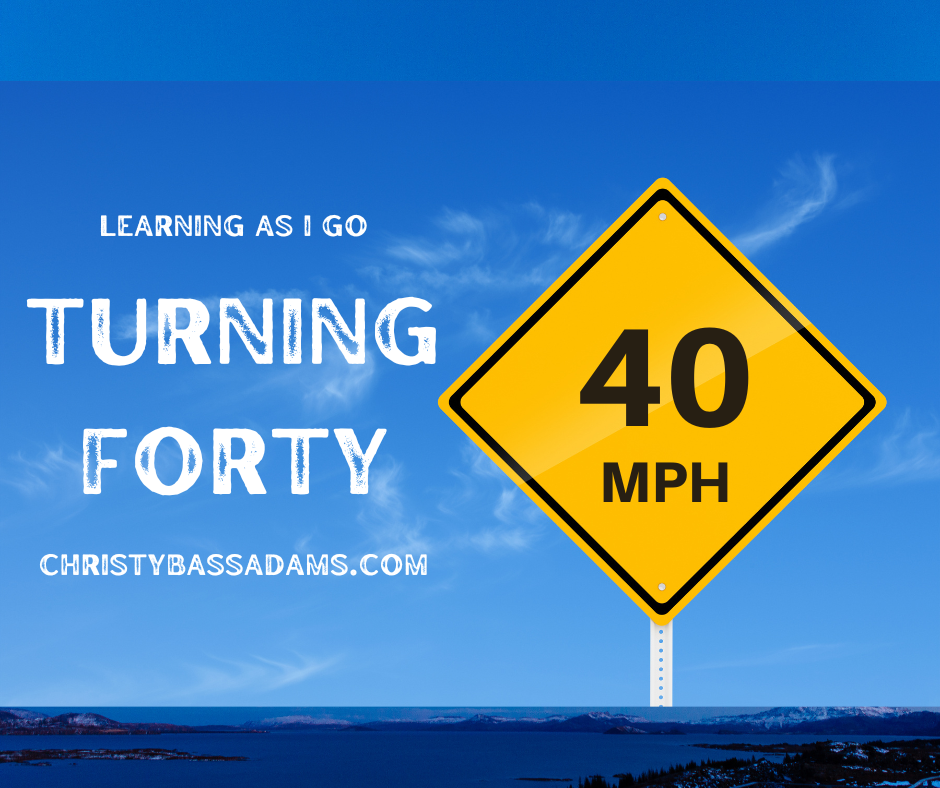 Posted On
Posted By christyadams008
It's my last week as a thirty something. Forty becomes a reality next week. As I think about that age marker, the label of "middle-aged" comes to mind. When I was a teenager, forty seemed so far away and people who were in their forties had to be ancient.
When I was younger, my dreams were giant. I was going to travel the world and be a missionary in a foreign country. With Sunday school teachers like Nita Ruth McCullough, who lived her life as a foreign missionary, I just knew I would be the next Lottie Moon.
Eighteen came and I traveled to China on my first mission trip. The magic melted in heaves as I left twenty-five pounds of myself in squatty potties throughout the Kunming area during the five weeks I served there. While the experiences were amazing, I quickly recognized my feet weren't ready to be planted overseas.
So, I temporarily allowed my feet to be planted at North Florida Community College. Determined to get out of Madison, I made short-term plans, accepted part-time jobs, and only committed to two years of serving in any capacity. But I never made it out. My feet, as hard as they fought, eventually planted roots. I married a local boy, earned a teaching degree, had two sons, and Madison became my forever home.
My teenage self would be appalled. Madison was a suffocating small town and there was nothing to do and no future that could happen here. But as forty stares back at me from across the horizon, there's no other place I'd rather be. Madison is the place that shaped me into the person I am. It's the place I began my teaching career and learned the importance of compassion, love, and kindness. It's the place I've made connections and formed relationships. It's the place that has inspired me to write, speak, and chase my dreams. It's the place where I feel safe to raise my family and do life with so many friends. Funny how a little life changes things.
So much of what I expected my life to be is not where my feet are headed now. I thought I'd be a lifer in the school system and stay in the field of teaching until I retired. Slowly, I would work my way up and eventually become a principal and continue to make a difference. Financially, I would help my family stay afloat and always have a steady income.
But I had to surrender that future. I let go of teaching and took a chance on working part time at my church—doing mission work and reaching the community. Financially I had to let go of what I had always imagined my family contribution would look like as I let my yeses to God become bigger and bigger, even though the unknown future seemed scary. As a result, childhood dreams of being a published author will come true during this fortieth year as two books I wrote will be published before this year ends. Fears of public speaking have been overcome as God gives me courage and keeps opening more and more doors for me to share about His goodness to those who are hurting. Our house, that I have dreamed of living in since I was a teenager, will be finished this year—filled with six years of sweat equity, life lessons, and future memories.
No, forty looks nothing like I expected. Of course, thirty didn't either. Maybe that's the secret—hold on tight and let God move my feet where he wants to plant them, not where I think they should be. Here's to a new decade, filled with adventures, newness, and joy. Ready or not, middle-age, here I come.
Copyright secured by Digiprove © 2022 Christy Adams