This is What Depression Looks Like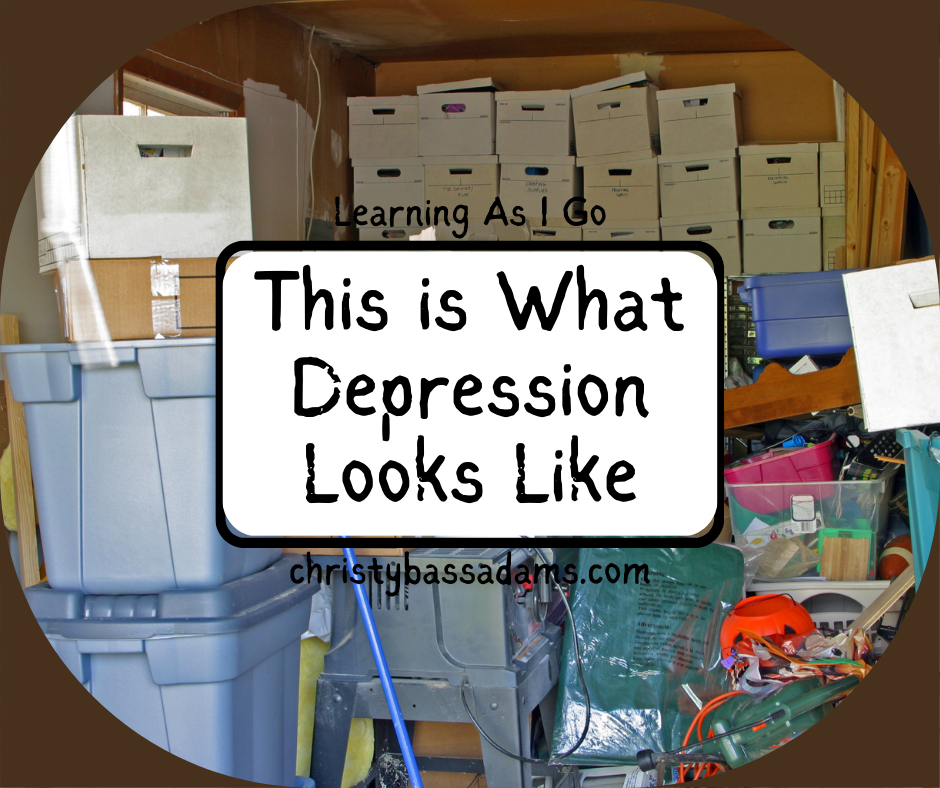 Posted On
Posted By christyadams008
I stood in my bathroom staring at the overflowing trashcan. How long had it been since I actually emptied it? Then I noticed the bottle of bathroom cleaner with a fresh rag on top. A well-intentioned effort from two months ago with zero follow-through. This is what depression looks like.
Clothes in traveling bags laying in corners from so long ago the kids have outgrown the contents. Shoes scattered through the house that fit no one, but too lazy to pick them up, find their mate, or get rid of them. Piles of clothes that need to be put away, but instead get moved around from surfaces to beds until they're all used. This is what depression looks like.
Trash around tables—knocked off, neglected, and ignored. Lost mail on piled high counters with random toys, receipts, and junk spilling over the edges. A couch covered with blankets, backpacks, toys, and clothes that no one cares to put away. This is what depression looks like.
I can make excuses all day long that I spend so much time working on the new house that I don't have time. But what about the last decade before the house project? What about all those wasted days wearing pajamas and laying around? This is what depression looks like.
As we finished installing the floor in the master bedroom today it was as if my eyes were awakened to the depression that has existed in our old home and lives for way too long. It snuck in over time and excuses, justifications, and good intentions made the non-productivity okay. Wishful thinking,  talking a good game, and last minute shove-and-clean-because-we-have-company-coming-sprints kept us convinced we were doing okay. But we weren't, because this is what depression looks like.
As I stare 2023 in the face and we are close to cleaning out the old house and starting fresh, I'm glad I find myself saddened by the depressed state of my home. Awareness motivates me to seek accountability and watch for signs of depression sneaking in. Each junky, neglected room will remind me of the need for assigned places of items and routines to keep the house in order.
I don't want our new house filled with hard and sad. Instead, I desire joy, hope, laughter, and fun. And clean. And organized. And no longer an embarrassment.
How about you? In what ways is depression present in your life and what are you planning to do about it?
(for more conversation on depression, read my blog post: https://christybassadams.com/depression-call-it-what-it-is/ )
Copyright secured by Digiprove © 2023 Christy Adams