Raised by Clowns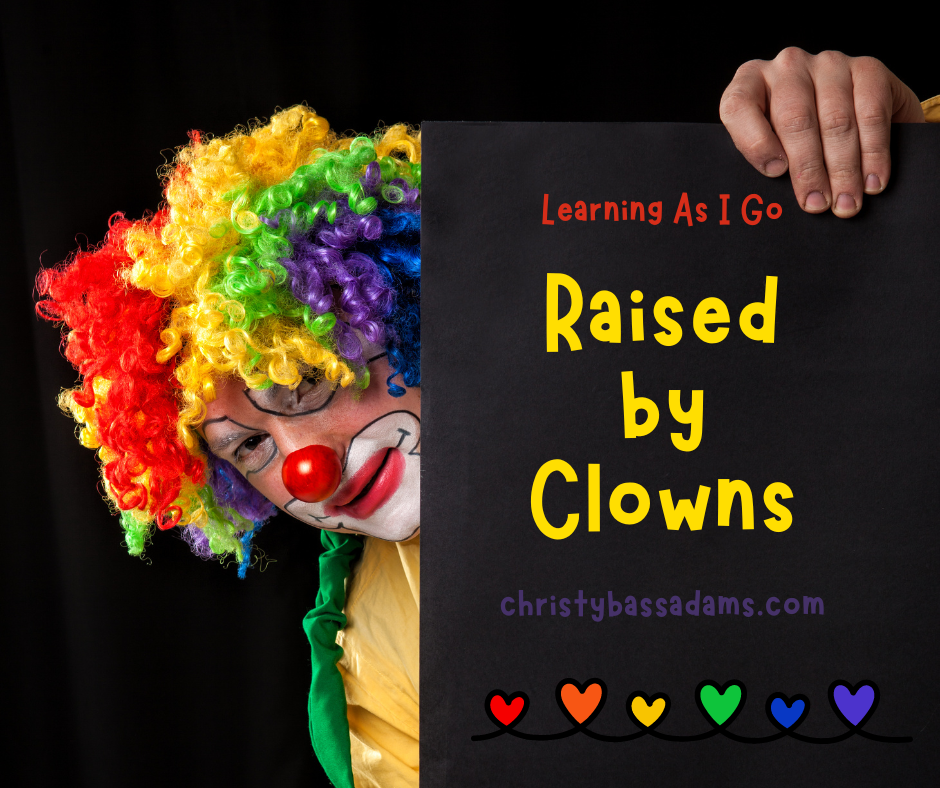 Posted On
Posted By christyadams008
I was raised by clowns.
No, really. My parents regularly dressed in large, floppy costumes adorned with rainbow hair and large red noses. Face paints, in a variety of colors, lined our shelves and funky socks worn with large, squeaky shoes were normal.
My parents were the kind of clowns who created balloon animals. Dogs, giraffes, hats, swords, and flowers were the most popular designs. When invited to events, they would often need hundreds of balloons, so the whole family would help blow up and tie balloons ahead of time.
One such weekend, our living room was filled with long, skinny, inflated clown balloons. All of our fingers were tired from pumping up and tying the balloons. We finally had enough to call it quits and we propped our feet up on the couch and flipped on the television.
Kitty Mo, our incessantly nosey Siamese cat, slinked around the corner. She pointed and made a low growl as she stared at the pile of balloons. Slowly, she got the nerve up to walk over to the balloons. She sniffed several of them and then sat down beside the large stack, switching her tail.
A balloon shifted in the pile and caught her attention. She stuck her paw out and batted the balloon. All of us turned our gaze toward the cat—this was about to get good. Kitty Mo tried her hardest to ignore the rogue balloon, but the temptation was just too great. She batted it again. And again. And again.
Her pose went back to sitting and tail switching as she turned her back to the balloon pile, pretending to ignore her prey. But she couldn't take it any longer. Without warning, she quickly turned and pounced. Claws extended.
She grabbed and batted, fully intending to kill her prey. And kill it, she did!
POP!
The cat pinged into the air, claws extended, and landed in the pile of balloons like Garfield.
POP! POP! POP!
She was under attack by the giant mountain of balloons and the more she freaked out from the onslaught, the more balloons that popped and scared her.
By this point, all of us were laughing hysterically. Kitty Mo hated to be humiliated, so, she casually composed herself and walked away to a spot in the middle of the floor and began cleaning herself; always keeping an eye on her attackers.
As I think about that instance, I'm convicted of my own temptation to seek out those "things" of interest that are way too tempting. Curiosity draws us in, and we are compelled to check it out. Then we become fixated. Before long, all we can think about is our newest distraction. Finally, we just have to reach out and touch the balloon.
And POP! We have allowed ourselves into something that suddenly explodes in our face—but we never saw it coming.
Temptation in and of itself isn't the problem, it's the action that accompanies. If Kitty Mo had left those balloons alone, she wouldn't have had the consequences and humiliation that followed her actions.
Same goes for us. I'm reminded of a meme I read recently, "The grass might look greener on the other side, but then again, grass is always greener over the septic tank." Just because it looks interesting and better doesn't mean it is.
What "things" are drawing your attention? Check yourself this week before the POP happens. You can save yourself a lot of undue stress if you just stay away from the pile of clown balloons.
Copyright secured by Digiprove © 2022 Christy Adams