Check Your Bait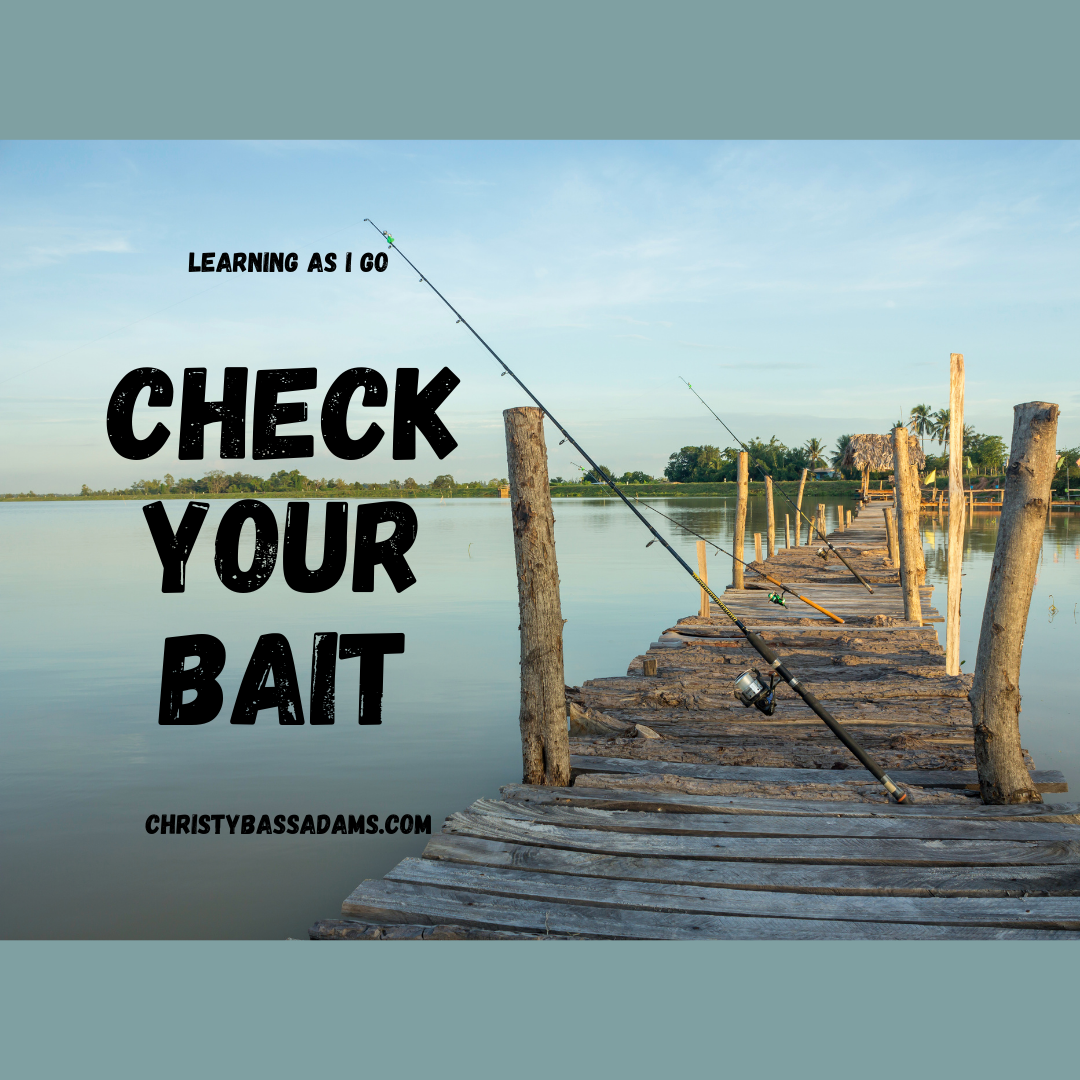 Posted On
Posted By christyadams008
"I caught a snake!" my mom yelled as she quickly left the pole with my husband and darted to the other end of the pier. Of course, all of us ran over to see what she had actually caught.
My husband held it up for a picture. "It's an eel. Come back over here." But Mom would not budge. "Come on, Yaya. Come get a picture with your catch. It's an eel, not a snake." Mom backed up further. An eel was not her idea of a fun catch. Even after she knew the eel was back in the water, she was hesitant to cast anymore. Catching something you aren't fishing for can leave quite a mark.
Over the next few days, we used live bait and lures to try to catch fish. The lures designed to catch trout and redfish actually caught trout and redfish. The live bait, which often attracts small, trash fish did exactly that, leading to the eel catch and several bait stealing pinfish. We caught what we were fishing for based on the bait we used.
In life it's the same way-we catch what we are fishing for. When we are young and dating, how we dress, act, and who we surround ourselves with dictates the kind of guy or girl we end of spending time with. This can also be true of friendships. Shallow-diving plugs versus deep-diving plugs make a huge difference in the type of people we end up attracting.
The same goes for our careers. If we use a bait that is pretty and attractive, but doesn't have any follow through, after a while, the other fish will see right through us and no one will buy into the fake lines we are throwing. But if we use authentic bait, the kind that shows the true fishermen we are, then we will prosper and grow in our career in the right way, not in a fake way that is all about the show.
As we mature in life, ideally our choice in bait changes, too. Hopefully we learn that casting a line of lies doesn't bring in true friends or that pitching our negative comments won't build strong friendships. I hope we learn that fishing with authentic bait and real-life honesty will bring in the best types of fish- the ones who can become trusted companions and lifelong friends.
So, check your bait this week. Are you catching what you're fishing for?
Copyright secured by Digiprove © 2021 Christy Adams