Aren't We All Like Judas?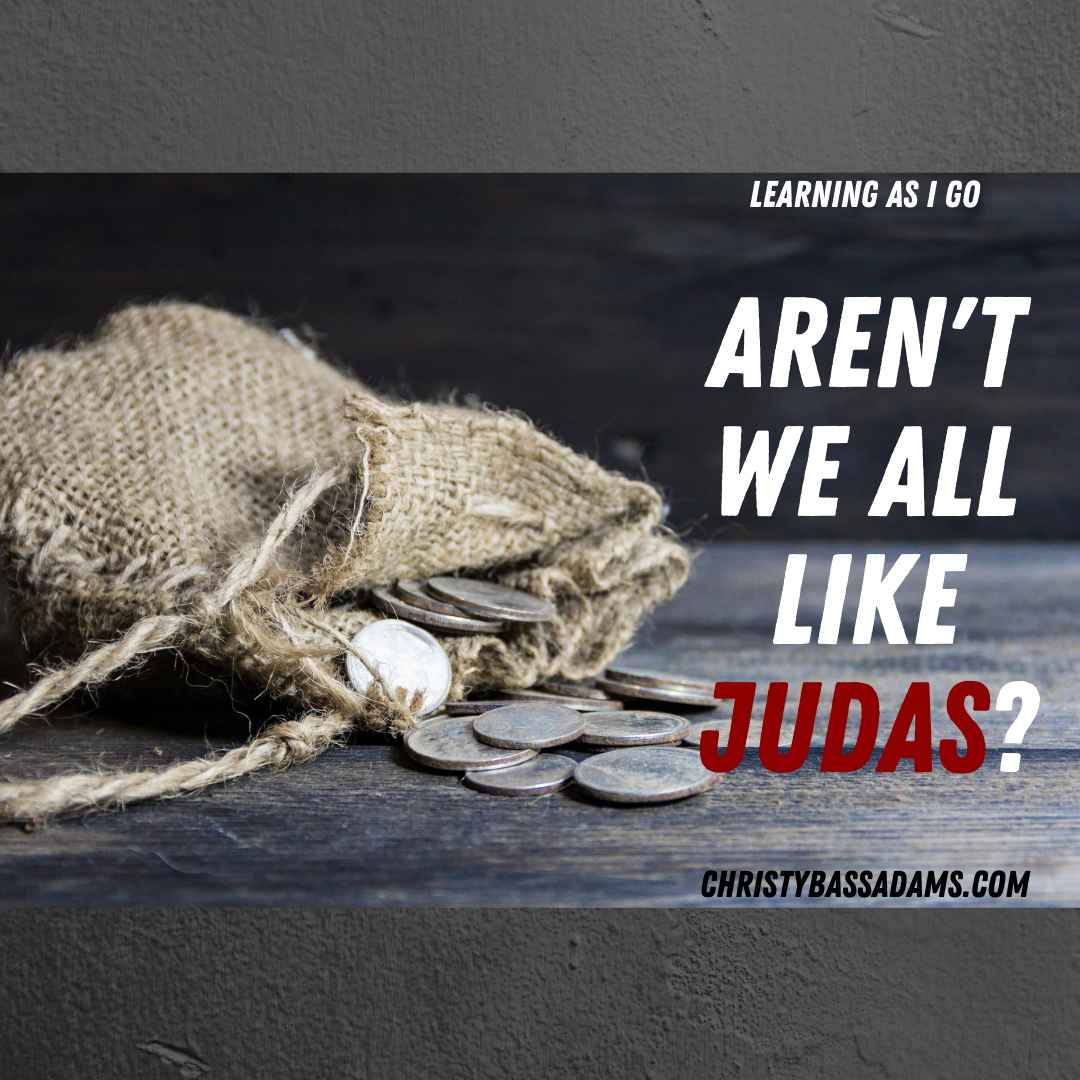 Posted On
Posted By christyadams008
After attending The Passion Play this weekend, I have thought a lot about Judas. He was one of the disciples and for roughly three years he traveled with Jesus and witnessed all the miracles. Yet, for 30 pieces of silver he betrayed Jesus into the hands of the chief priests.
Jesus knew he was the betrayer, yet He allowed him to be a part of the group. Jesus knew what the outcome would be, yet He still allowed Judas close to him. Jesus knew that Judas' betrayal was an integral piece of the whole reason He came to earth. Betrayal was a part of God's plan.
That reality hit me hard this weekend. Jesus didn't come to earth to just do miracles and live a long, happy life. He came to die. For us. All of us. Even Judas.
The idea that God could use such a deceptive act, like betrayal, still astounds me. God allowed Judas to sin, then used that act to lead to Jesus' arrest, which ultimately allowed the death of Jesus on a cross. Without death, there was no sacrifice. God used Judas to fulfill His plan.
Stop and think about that. Even what seemed like the vilest of sins, the betrayal of the Messiah into the hands of the enemy, God still came out the winner. Good still won. And evil did not prevail.
While I never betrayed Jesus for 30 pieces of silver, I've betrayed Him, nonetheless. With my words. Through my justifications. My hasty judgments. By my work that became idolatry. Through addiction. By giving in to selfish pleasures. By loving money and man's praise more than seeking His face. And sadly, my betrayal isn't a one-time deal like Judas'.
But God still wins. He still achieves His directions and goals. His will still happens even when I'm betraying Him by my actions, attitudes, words, and life. And you know what is even more amazing, something that Judas never got to see? Even when we betray. Even when we turn our backs. Even when it seems that we have gone too far; God never gives up on us. And what's even bigger is He often uses the vilest, darkest, and hardest things in our lives as stepping-stones to help point others to a deeper, closer relationship with Him. That completely astounds me.
Judas, filled with guilt, assumed he was disqualified and eventually killed himself. So many of us see our huge mistakes and think we have no value or worth, that God would never want us after what we have done. Newsflash-we have never gone too far for His grace. Even if our betrayal seems bigger than all the rest, God can still get the victory in our lives if we let Him. Won't you stop living in defeat, like Judas? Your biggest disgrace might be what God wants to use to bring Him the most honor.
If He can use Judas, He can use us.
Copyright secured by Digiprove © 2021 Christy Adams